So here I am, looking at the window of a bus that is leaving Philadelphia, the city that hosted the second annual WordCamp US.
To say that it went well is to say nothing. Like Matt noted in his State of the Word, this was probably the smoothest WordCamp ever, firstly because of the great work of the ever-awesome organising team and volunteers, without whom this event wouldn't be possible, secondly, because organising an annual US WordCamp in the same city two times in a row was obviously a good idea. Most of the attendees, including me, knew their way around the city and the venue, which is a good thing, taking into account that there were around 2000 people who came to visit this year.
The Talks
Although I'm more of a hallway track guy, I did attend a couple of talks that I wanted to see live.
One of them was Pippin's. He answered many important questions that I had in mind about ThemePatio and selling WordPress products in general. If you are selling anything with or for WordPress, you should totally watch it.
Another great presentation was Chris Lema's. He shared several very simple but useful pieces of advice on finding your blogging voice. Although, many things he said weren't new at all, the way he said them was very inspiring.
I truly believe that the purpose of any talk is not to educate the audience but to spark the urge to learn things, to create something, or to reshape something that you have already created. That's exactly what Chris Lema did this time.
If you think blogging isn't for you, or that you have nothing to write about—watch his talk, you'll change your mind, I promise.
State of The Word
As a WordCamp Moscow 2016 lead organizer, I was really disappointed when Matt made a comment "What's up Russia?", pointing out that there weren't any WordCamps there.
After putting so much work in organizing our WordCamp, I felt a bit downhearted to hear that but after a moment decided not to take it personally. At the end of the day, there were 116 WordCamps in 2016! How can you possibly remember every single one of them! I thought that Matt just forgot about it.
But this is where it gets interesting, the next day, Taco from Yoast posted this tweet:
Which lead to Matt posting this one:
So… it looks like WordCamp Moscow 2017 will have Matt Mullenweg as a speaker, or at least, as a special guest!

Ok, this was a bit personal. Getting back to WordPress, I'm really excited about other things that Matt mentioned in the State of The Word. To name a few:
Feature-focused releases
Focus on the Editor, Customizer, and Rest API
New default theme that is much more than just a blog
Calypso being aware of plugins
Meeting Old and New Friends
Like I said before, I enjoy the hallway track more than sessions, so I tried to meet as many interesting people as I could. I was very excited to meet Zac Gordon in person.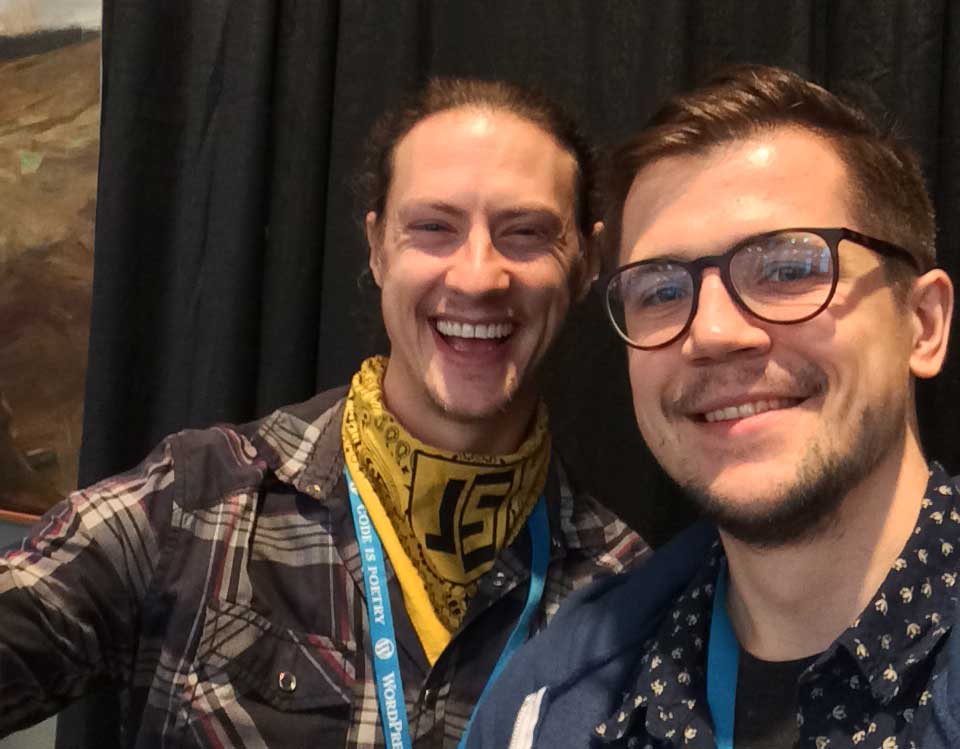 Isn't it great when you see someone almost the first time (we've met briefly last year) but feel like you have known each other for a long time? We talked about JavaScript (obviously), Customizer, and WordCamps.
Also glad that I had a chance to talk to David Kennedy, who shared many tips on theme development, UX, and UI. You can expect some changes in the Counter theme in near future.
I was also glad to see John Parris again after we've met at the WordCamp San Francisco in 2014. Was hoping to see Mike McAlister as well, but John said he couldn't make it this time.
Another great thing was to see the guys from GetPhound, with whom we've met at WordCamp US last year. Thanks, Ryan, Nina, and Ross for a great time.
Contributor Day
Usually, I help new theme reviewers review their first theme during contributor days, but this time I tried to do something new and learned how to write sniffs for PHP Codesniffer. I was using Codesniffer with WPCS for a very long time but didn't contribute to the project.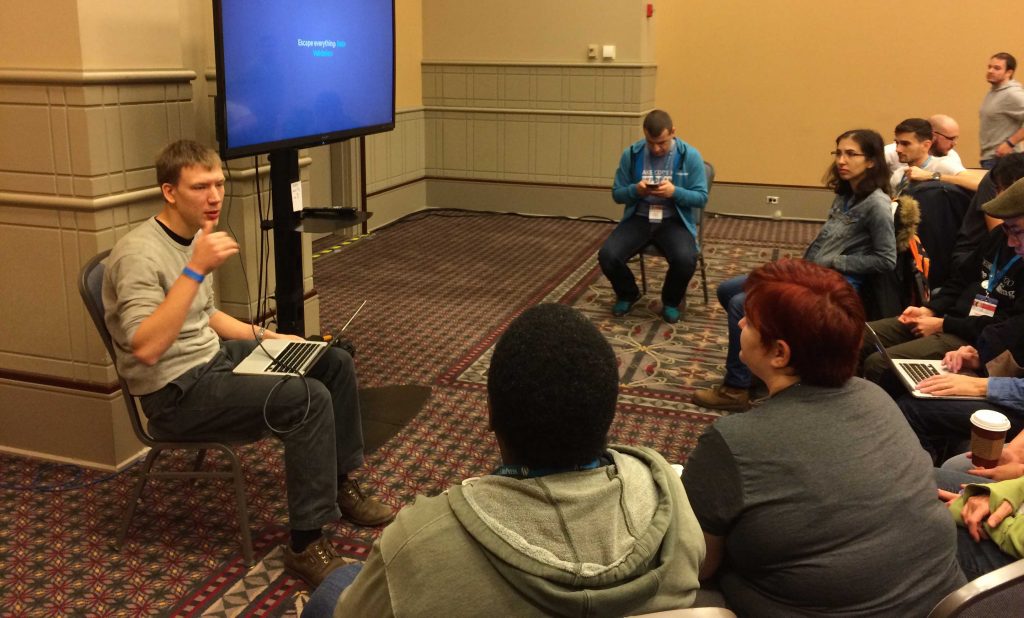 Huge thanks to Ulrich Pogson, who kindly answered many of my beginner questions on the subject. Now that I understand the basics, you can expect more contributions to the WPCS from me. Yay!
Exploring Philly
This year I decided to spend two days after the WordCamp to experience Philly. The past year was pretty intense in terms of work, so I tried to learn to enjoy simple things that we tend to ignore in our day-to-day routine.
I ran almost every day, was taking pictures, and tried the local vegetarian food. I have totally gained some weight, but I decided not to worry too much about it as I'm sure I'll run it off as soon as I get back to my training and eating regime.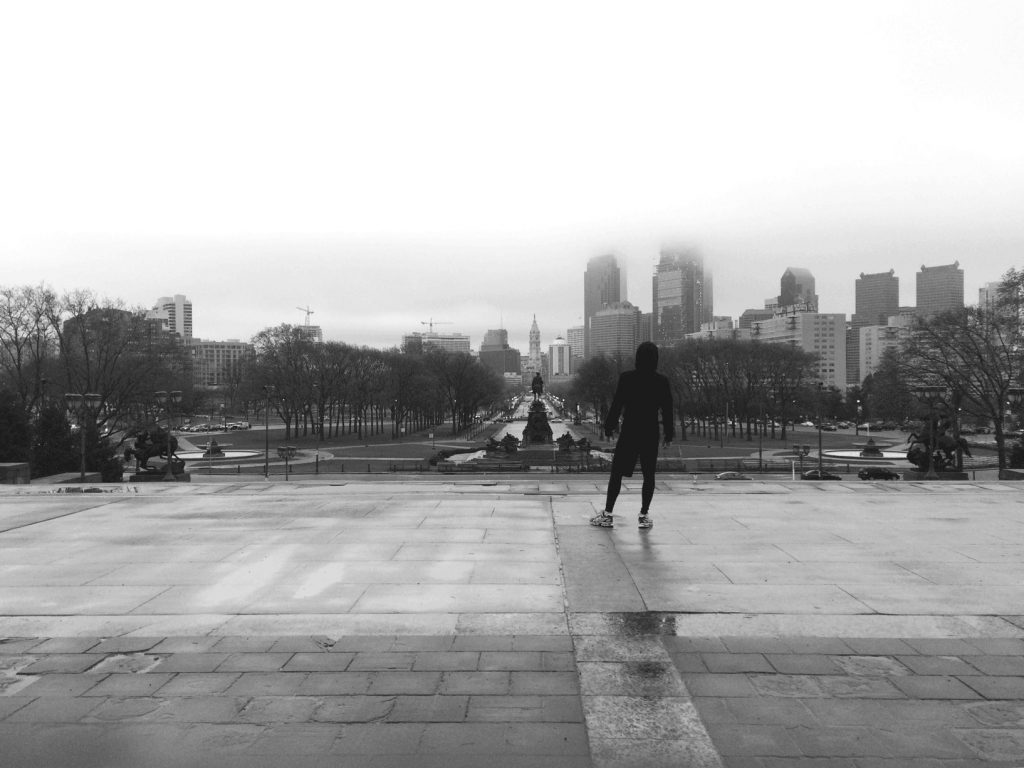 Yes, that's Rocky steps. I am a fan 🙂
Wrap Up
As I've mentioned at the beginning of this post, I'm going to D.C. now to visit my friend Antti, who I met at the WordCamp San Francisco 2014.
This is amazing how WordCamps let you meet people who you wouldn't have met otherwise. You may speak a completely different language, be of a different culture or have different skin color, but still, have so much in common.
It makes me want to travel more, learn more and dedicate more time to WordPress and related open source projects. I know it sounds a little bit sentimental, but it's true. If you've never been to a WordCamp, you should totally attend one.
Said that, I'm very much looking forward to future WordCamps in London, Europe, Moscow, D.C. and US. Not sure I'll make it to all of them but I'll try to do that.
See you there!